"We were impressed with your obvious experience and knowledge of your craft, but more importantly, with the sincere dedicaiton of everyone on your staff."
Linda Hayes
 Christ Episcopal Church

refresh the page to read more KEPHA talk

Success Stories...

"The secret to our success? We understand that customers are not just customers, they are partners...that's why so many keep coming back to KEPHA!"
Mark Duncan President - Kepha Resources

Here are just a few of our success stories...

please refresh the page to view other stories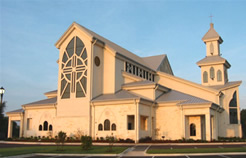 FIRST UNITED METHODIST CHURCH
Round Rock, Texas
NEED
- First Campaign in 1997 - New education building. Second Campaign in 2001 - New sanctuary
GOAL
- Goal of 1.8 and reached over 2.2 million. Goal of 2.8 and reached 3.4 million of a 4 million total need
RESULT
- FUMC received pledges a little under the 4 million mark.
view the First Untied Methodist - campaign video

please refresh the page to view other stories